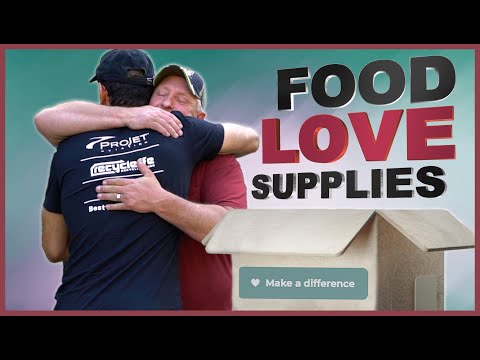 After having done two food drives in McDowell County: Discovering McDowell County and Return to McDowell County, Richard wanted to organize an even bigger food drive. Richard worked together with the executives from ProJet Aviation Shye Gilad, Madeleine Gilad, Julie O'Brien, Tina Gray, Lindsay Arrington, Courtney De Marais, and their staff. Everyone worked tirelessly to make this food drive a big success.
Richard knew that this was going to be the biggest food drive yet. He planned it together with the team from ProJet and was able to deliver more food to more families than he had planned. The BYBM team planned to have 4 stops all over Powhatan and around McDowell County 
The first stop was Pineville, West Virginia, at the Itmann Food pantry. The team gave 60 boxes of food, various boxes of clothes and wrote a check. The second stop was the St Peter Catholic Church in Welch, West Virginia. The team gave another 60 boxes of food and also wrote a check. 
The next and third stop was the main event of this trip. The Best You Best Me team went to the Powhatan Sacred heart Church, in Powhatan, West Virginia. The team delivered 90 boxes of food, an additional 450 loaves of bread, fresh fruits and over 100 bags of clothing and supplies. The team also wrote many checks during their third stop. Richard found it an amazing experience to be part of. To help so many families with food and other supplies is something very special.

The final stop was at the St. Peter and Paul Catholic school in Oakhill, West Virginia. The team delivered another 60 boxes of food and wrote a check. After the 4th stop, the team returned home. 
During the Powhatan McDowell county Food drive Best You Best Me, along with the ProJet team and everyone else who helped or donated, delivered more than 2 weeks of food for 270 families. In addition, the team handed out many boxes of clothes and other essentials to the families. On top of the boxes of food and clothes, the team wrote 17 checks to various people, with a total amount of 10,750 dollars. It was an amazing food drive.
Best You Best Me is grateful for everyone who helped during this food drive. It was a team effort, something which would not have been able to happen without everyone.
Best You Best Me wants to give a special thanks to ProJet Aviation, their staff and executives Shye Gilad, Madeleine Gilad, Julie O'Brien, Tina Gray, Lindsay Arrington, Courtney De Marais, and all their wonderful staff for allowing us to turn their executive offices and boardrooms into a food pantry for about 3 weeks! 
A big thank you goes out to all the amazing staff at Paramount Business Jets who supported this project and helped to generate the funding needed to make our trip a success.
Thank you to Recycle Life, Dave Morgan, Chris Diaz, and Juan Arevalo for coming out and helping to pack the truck and picking up the supplies we needed from Lowes to secure the cargo in the truck.
Thank you to our camera and drone crew Babar Romail and Faisal Ehsan for filming our journey.
Thank you to all the pilots and aircraft owners who flew out to Powhatan at their own expense to help during the distribution day. Special thanks to Dan Duenkel, Bugs Forsythe, Gabriel Muller, and Randy Taussig!
Thank you to Evgenia Zaher, Leonardo Zaher and Alexander Zaher for all their help to pack and support at our main event in Powhatan, WV.
And last but not least, a very special thanks to all the amazing people in West Virginia at every location for allowing us the opportunity to be of service. From BYBM you were amazing!
Get inspired by other's stories & projects